We drink. We stink. We sink!
Cream of Potato with Parmesan
One day in class I roped myself into making a soup for my students. I was illustrating some point about paragraphing, and I made reference to a soup I had recently made. Some of the students were surprised that I cooked, and when I told them of my blog posting of Tuesdays With Soup, many of them didn't quite believe me. I allowed one student to go quickly online to look up my page and to search for Tuesdays With Soup. Well there it was! The students were impressed and asked me to make a soup for them. I suggested that we make a bet about some class material I was about to introduce in class that they had been assigned to do as homework. If I was sufficiently convinced that they had done their work, I would make them some soup.
The class consists of 26 interesting, bright, focused men and women, so I was ultimately pleased to make for them a soup I hadn't made in a very long time: Cream of Potato with Parmesan.
Ingredients
4 lbs yellow potatoes, peeled and cut into uneven chunks
6  cups vegetable stock
6 cups half and half
1 cup parmesan cheese
1 lb cooked bacon
For a roux:
1/2 cup butter
1/2 all purpose flour
1  tsp dried basil
1 tsp garlic powder
1 tsp dried parsley
1 tsp rubbed sage
1/4 tsp Lowry Salt
1/4 tsp black pepper
Directions
Put vegetable stock and potatoes into a large pan; bring to a boil.
Put butter and flour in a sauce pan, over a small flame. Stir constantly.
Keep stirring.
Keep stirring until the mixture becomes an evenly combined doughy paste.
Slowly add spices to the paste while still stirring.
(The longer you stir the better it tastes.)
Add the roux  to the simmering potatoes; keep stirring.
Bring the simmer to a boil, for two minutes.
Return to simmer for a few minutes.
Add the half and half.
(Taste and add any of the spices if they are not fully presented. Add sparingly.)
Add the parmesan slowly, stirring.
Serve with bacon on the side for those who wish to add some meat to the soup.
Seth McFarlane
Seth McFarlane
is Hollywood's latest darlin'.
Not quite as handsome as Clooney
he is way more looney.
Herbert Lom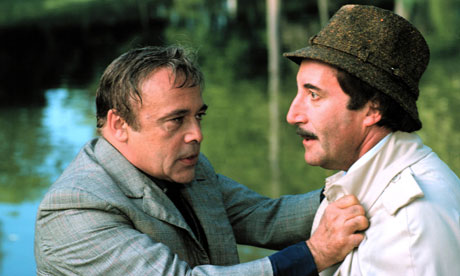 Herbert Lom
was remembered in memoriam:
He could act stupid or serious,
manipulable or imperious.
Ben Affleck
Ben Affleck
–No not the duck–
made his public peace;
may his blessings increase.
A Hearty Beef Vegetable Soup
Ingredients
2 tbs olive oil
1½ lbs beef chuck, cubed
1 large yellow onion, diced
8 oz mushrooms, sliced
1 small zucchini
1 cup carrots, julienned
1 15 oz can chicken broth
2 15 oz can tomato sauce
2 tbs dried oregano
1 cup wild rice, pre-cooked
parmesan
Directions
Brown beef in olive oil.
Add onions; sweat until transparent.
Add mushrooms, zucchini, and carrots.
Add chicken broth and tomato sauce.
Bring to the boil; lower to simmer.
Simmer for 1 hour.
Add oregano.
Simmer 15 minutes more.
Stir in rice.
Remove from heat for 5 minutes.
Serve with parmesan.
Bread and scallions make a nice addition.
Marco Rubio
Florida's Senator Marco Rubio
is a Repub trying to change the show:
He thinks new rules for illegal immigrants
gives the tone-white GOP new tints.
Boy Scouts of America
America's Boy Scouts
harbored, for decades,  pediphilia-louts.
Now they see that it's okay
to be gay.
Chris Brown
 
Chris Brown,
music's perfect clown,
once again has heard the call
and started another silly brawl.